Play video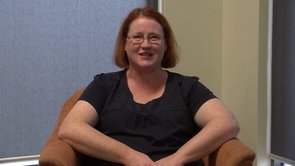 Parent Perspective
Reality Check
When commencing your therapy journey, it is important to remember that both you and your child have your L-plates on.
Give yourself time to adapt to your new role as a teacher as well as a parent. It is also important to give your child time to adapt to this change. It is common to see challenging behaviour or new behaviour in your child at this stage. This does not mean that you are failing or that your child is not responding to therapy, it just means that change and learning are taking place, and it is important that you stick with it.
At the start of the therapy process, it is common to have high expectations that your child will improve dramatically, and that you will see these improvements quickly. The truth is, real change and the mastery of skills is a slow, repetitive process. You may need to re-think the way you view progress and achievement by celebrating the small steps.
"You need to have these little moments and these little breakthroughs, the first breakthrough is just gold, it's absolutely gold because you get that first inkling of the potential and it's just amazing." Tracey, Parent
Being a parent is a busy job, and when you have a child with ASD life can be even more hectic! As well as appointments with doctors and therapists, you will most likely have other commitments and extra demands placed on you such as homework from school, extra-curricular activities, work outside of the home, and other children.
There might be times when your child's and family's lives are so full that you can't find time to add therapy appointments to your weekly schedule. It is important that therapy fits in with the needs and circumstances of your family, and you can talk to your therapist about how to juggle this. For example, if you are unable to attend therapy and practise skills at home, your therapist may be able to provide therapy at school and the therapist would then work with the teacher on the strategies that can be used to help with skill development. There is no one-size-fits-all model of practice and it is important that you figure out what is going to work best for your family and for your child.