Play video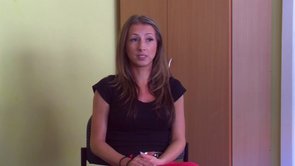 Parent Perspective - Where to start with therapy
Getting started
Beginning therapy can be scary and exciting at the same time!
Step 1: Decide on the therapy that is right for your child
You can find more about how to choose the right therapy for your child in the Therapy Explained section.
Step 2: Make an initial enquiry with the therapist or therapy clinic:
It helps to write down one or two things that you would like the therapist to work on (for example, helping your child with feeding, toileting or behaviour) and  if you have specific concerns, make these clear to the person you are making the appointment with. Sometimes therapists will have specialist training in certain techniques or areas, so it is useful to mention this when making the appointment.
List of questions to ask at initial enquiry
Here are some questions you may like to consider when contacting a therapist for the first time:
Does the therapist have experience working with children with ASD?
Is the therapist trained to meet the specific needs of my child (for example, feeding issues)?
What training or experience do they have in this area?
What can I expect in the first session?
Are there any forms that I need to fill out before the first session?
Will there be any assessment conducted with my child? What kind of assessment?
How much will the first session cost? Will there be any follow-up or extra costs (such as a separate fee for report writing)?
Do I need to bring anything to the initial appointment (such as previous assessment reports)?
Who should attend the first session? Who should attend further sessions?
How long will the session last?
What is the cost of ongoing therapy sessions?
Things to consider before the first session
The following information could be useful for your therapist, particularly in planning for a successful first session:
Key points of your child's personality and strengths
A list of your child's favourite toys/objects/topics of interest (i.e. trains, balls, furry toys etc.)
Anything that might alarm or frighten your child (i.e. loud noises, bright lights)
The strategies that you use to calm your child when they are upset
In the first session, your therapist will try to get a clear picture of the concerns you have about your child and what you are looking to get out of therapy. Before the first session, it would be helpful to think about (and write down) the main concerns you have about your child's development, and what it is that you would like them to be able to learn or improve on in therapy. It is important to think of your child's development in a range of settings, such as at home, kindergarten, or school.
The First Therapy Session
There is no one-size-fits-all approach to therapy, and therefore there is no 'right' way for a first session to look. This will depend on the therapist you choose and the way that they work. Each therapist will have their own set of guidelines to follow when starting therapy with a new family.
The following list includes some things that you might expect during your first session with a new therapist:
Your therapist might interview you to ask questions about your child's development, their strengths, and the areas they need extra help in.
The initial session/s may cost more than future therapy sessions. There may be additional charges for conducting standardised assessments and testing, or for writing reports.
Your therapist may prepare a written report, and there may be an additional charge for this. Sometimes a report is optional.
The initial information-gathering stage might take more than one session to complete.
The therapist might use a  combination of standardised and non-standardised assessments with you and/or your child. For more information, visit the Assessment section.