Play video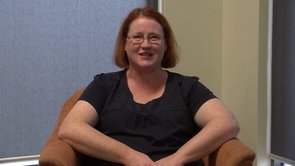 Parent Perspective - Engaging in the therapy process
Parent participation in therapy
Parents play a very important role in the therapy process. To make sure that the skills learned in therapy sessions translate to the real world, taking an active role in your child's therapy program will help you to learn the strategies and techniques that will in turn help your child.
Where appropriate your therapist will train and coach you to work on therapy goals directly with your child, so that you can 'become the therapist' within the home environment.  The benefit of this approach is that you have so many more hours with your child than the therapist does, and you can continue to work to develop your child's skills outside of the therapy session.
"Therapy is about coaching families on how to teach their children,  it's how therapists help parents understand the needs of their child and it's how the parents and the family then work together to bring the best outcome for that child." Tracey, Parent
Exactly what a therapy session will look like will differ from session to session and therapist to therapist. Below are two examples of what a 45-minute therapy session might look like, and how a parent might participate in the session.
In both sessions, the therapist spends some time explaining the focus of the session to parents so they know which skills will be targeted in therapy.
In Therapy Session A, the child needs the therapist's full attention to remain on task, therefore the therapist would not be able to coach the parent during therapy with the child. This would mean that more time would need to be given at the end of the session for the therapist to teach the techniques and strategies used in the session. Parents could then use these strategies at home in their child's natural environment.
Therapy Session B would work for a child who does not require the direct attention of the therapist to remain on task. This type of session would require less feedback time at the end of the session, as the therapist would explain techniques and strategies to the parent throughout the session. Time at the end would be allocated to questions and written homework.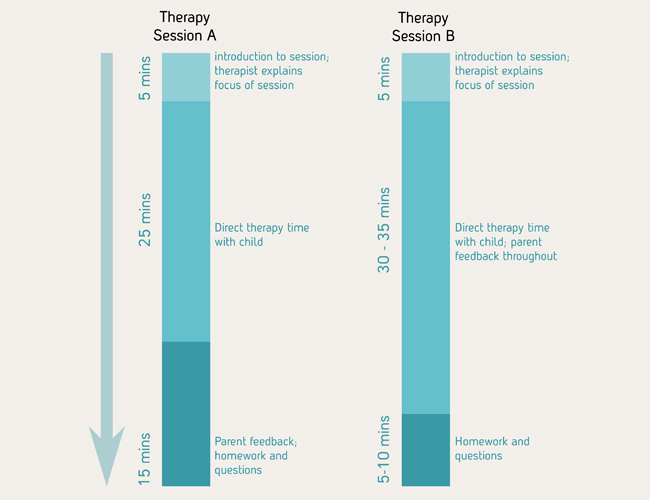 Play video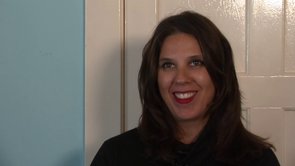 The parent role in therapy
Your child's therapy session does not stop once you leave the clinic! Your therapist will set homework (for you and your child) and give you things to try at home. It is important that if you feel that the strategies and homework being set are unrealistic, or incompatible with your current situation, you discuss this with your therapist. It is essential that your therapist understands your family environment and your level of confidence in trying these strategies at home so that realistic goals can be set. This is one of the most important factors that will determine your child's ability to carry out learned skills in the real world environment.