Play video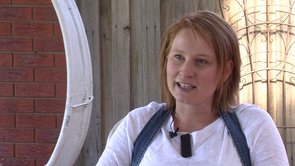 Parent Perspective - Therapy at home
Making time to practice therapy at home
At the end of the therapy session your therapist will explain what you can be working on at home, to further build the skills that were taught in the session. This is a good time to ask the therapist how to fit this teaching time into your day. It is likely that you will already have commitments and other demands placed on you such as homework from school, extra-curricular activities, work outside of the home, and other children. It is important that you are honest with your therapist about how much you can fit into your already busy day.
There are two ways that you can engage in therapy on a daily basis:
 Setting aside explicit teaching time. This means setting aside a block of time to work on specific tasks that have been set for you by your therapist.
Opportunistic teaching. This means using everyday activities to teach the skills outlined in your child's therapy plan. After examining daily activities, many parents are surprised to find that they are already teaching their child a range of skills on a daily basis. Sometimes only simple changes in strategies and techniques are needed for greater benefits and consistency.
You will generally be using a mix of both methods to engage in therapy at home, depending on the skill being taught. For example, a child who is working on their handwriting will need an allocated explicit teaching time (e.g. ten minutes each day sitting and practicing handwriting skills), whereas a child who is learning to ask for wanted items using pictures (for example food, toys, or toilet) would benefit from having this skill practiced throughout their daily activities.
The interactive timetable is a great way for you to see the number of hours that you already have in your child's daily activities to practice strategies learnt in therapy. Use the Interactive Timetable to see where you can find time to practice skills.